| | | | | |
| --- | --- | --- | --- | --- |
| The Ultimate in Contemporary Clocks | | Established 1971 | | |
Kaleidoscope – a binary clock.
The Kaleidoscope is Discontinued
The best alternate is our TimeCubed Clock
Probably the most artistic, playful, puzzle-like, binary clock ever created!
A sequentially displayed, single-digit, binary clock.
(for your inner Geek)
Not your grandfathers binary clock.
Or click here to see same YouTube Video of 6 Kaleidoscopes

Note the colors are better than the video. Also, they are all chimeing together so some notes sound tinney.

Face is recessed back 1/2". Face and sides, are matte black.

---

Features:

A color flowing kaleidoscope –– great fun to watch.

(Also, reminds me of color changing mosaic tiles, or a crystal diffraction pattern.)

Each display sequence lasts 10 to 12 seconds, then starts over with a new random selection of colors.

If you are weird, like me, you can learn how to read the time from the display. See discription below plus a QuickTime Movie.

A optional 1/4 hour chime is included to add some function to the fun .

Includes a 9 level brightness control.

Comes set (to your time zone) and running when you receive it –– just plug in for immediate fun –– this is especially nice when you are giving it as a gift.

Designed for those who enjoy puzzles and being playful with their friends.

---

The Reality of Today's World.
As with all of my designs, I will sell about 60 this year (2008), 30 next Christmas, then 20 more and finally –– discontinued. This is just the nature of making unusual products in low volume in the U.S. With this low a volume, at this price point, they are truly labors-of-love (another way of saying –– not very profitable). A lot of effort goes into each design so I really want you to have as much fun owning one, as I got from creating it. As with all of my designs all the way back to 1971, I still repair them when the need arises. Designs like this one are very reliable –– designed to be enjoyed for many years.

Barry Gamble
Explanation of Chimes
On quarter hour –– "ding"
On half hour –– "ding, dong"
On 3/4 quarter hour –– "ding, dong, ding"
On the hour –– first a preamble of – "ding, dong, ding, dong" –– then pause –– then finally chimes out the hour.
If you turn off the quarter hour chimes, it will still chime on the hour (no preamble) and half hour.
If you want no chimes just turn the volume control to zero.
---
The Kaleidoscope is Discontinued
The best alternate is our TimeCubed Clock
Call 1-800-328-1895 with any questions.
---
SPECIFICATIONS:

CASE:

LIGHTING:

ACCURACY:

POWER:

DIMENSIONS:

SHIPPING WEIGHT:

WARRANTY:

Acrylic – face matte black, back clear acrylic.

19 each, Red, Blue, and Green Light Emitting Diodes backlight the display.

+ or - 2 seconds as long as power is on. One minute per year running on battery.

120 VAC, 50 or 60 HZ. With battery for timekeeping backup. 230 VAC available.

6 in. HIGH, 6 in WIDE. 2.75 inches DEEP. Without case 5.37 square, 2" DEEP

4 LBS.

ONE YEAR ON PARTS AND LABOR.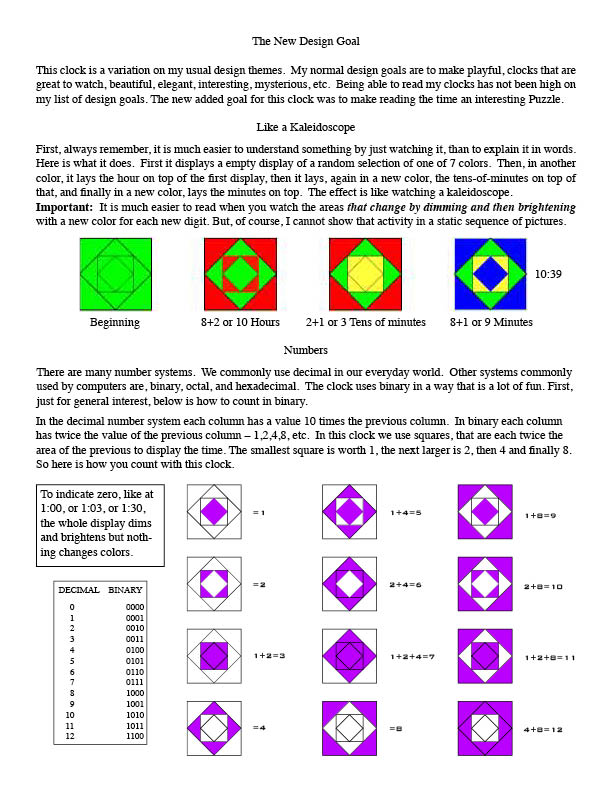 QuickTime Movie Simulation. To run click the play button or double-click the screen.
---
To ask questions or place phone orders, call me, Barry Gamble, at:
1-800-328-1895 -- in California.
You can call at most times, including weekends.
E-mail, your questions and/or suggestions.
Want to receive our Christmas new products mailer?